"THE DRUMMER DID AN AWESOME JOB, copping all the fills. That's what makes it all work for me." 
(Jeff A. Silverman, Producer, Nashville, US)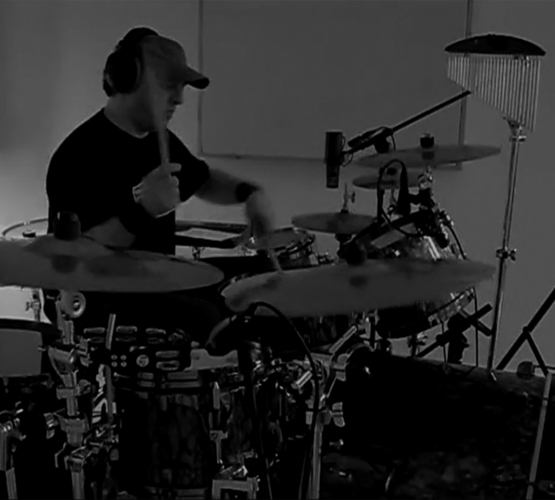 Changes and upheavals within the music industry during the last few years are tremendous, not only because of smaller budgets.  It is more about that. The research is working on unlimited automatic music streams with artificial intelligence, which changes depending on the environment and the feeling of the certain audience.
Therefore, the more automatism we have these days, the more importance has to be given to the "human factor", if music should have a certain cultural value in the future.
My recording service enables producers and artists to import live drums and percussion into their sessions to expand or, at best, replace programmed loops.
receiving
You can either send me musical drafts or stereo files without drums. You can add a guide mp3, if necessary.
recording
I track drums or percussion at the studio, sending mp3 bounces of my progress to help with the creative process
sending
When the track is shaped according to your wishes, I send you .wav-files to import into your session
studio
Studio & Outboard
Cubase Pro 9
Wavelab Pro 9
Ableton Live 9
Alesis HD24
Focusrite scarlett
Fostex E16
Fostex Model 20
Microphones
Audio Technica AT4050
Audio Technica AT 3060
AKG D112
AKG D12
Beyer M160
Beyer M201
EV PL9
Neumann KM140
Neumann UM57
Sennheiser MD421
Shure SM57
Shure SM 57 Beta
Shure SM58
drums
TAMA Kits
Bubinga – 22×18 / 10×8 / 12×9 / 16×14
All Birch – 22×16 / 10×12 / 12×14 / 14×16
TAMA Snares
TAMA Maple – 14×5.5
TAMA Bubinga – 14×5.5
Zildjian Cymbals
10″ Splash
13″ A-Custom Hi Hats
14″ A-Custom Mastersound Hi Hats
16″ A-Custom Crash
18″ A-Custom Crash
18″ A-Custom China
20″ A-Custom Ping Ride
others
Pearl Sensitone Steel – 13×5
Piccolo Snare – 14×3.5
21″ Meinl Profile Vintage Cymbal
Contact
---
Please get in touch with any enquiries.